Course Outline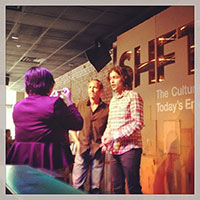 Find out more about the course, what we'll cover, assignments and readings. Students spend the first half of the semester preparing for the event by previewing panels and setting up the website and social media strategy.
Requirements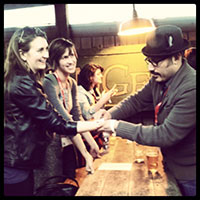 The course provides a complete experience learning opportunity, providing exposure to web and mobile development, reporting, multimedia editing and social media. At the same time, students are interacting with and hearing from the most progressive technology professionals. View the site at SXTXState.com.
Syllabus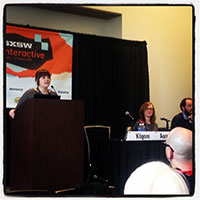 Read about the general course policies and procedures on the syllabus. This course is considered an advanced level, student-run project. Students have the opportunity to define goals and success, while pursuing their own interests at SXSW.
Welcome to the Course
The SXTXState.com project has provided students in the Graduate Program in the School of Journalism and Mass Communication at Texas State University with access to the South By Southwest (SXSW) Interactive Festival as part of the Advanced Online Media course for the past nine years. This year, the project is being offered as its own hybrid class. You have been selected to enroll in the class and receive a SXSW Interactive Badge. You are required to attend SXSW Interactive on March 11-15, 2015. During the spring semester, students will communicate and meet with the instructor via online and in-person methods. And, some preliminary preparation will be required prior to the beginning of the Spring semester. A final presentation will be made at the end of the Spring semester.
This is a wonderful opportunity to take a unique course that includes attendance at an event emphasizing many of the concepts covered in other classes and to see many of the big thinkers in media. Past years have included Mark Zuckerberg of Facebook, Chris Anderson of Wired, social media expert and author Gary Vaynerchuk, Marissa Mayer – formerly of Google, now Yahoo's CEO, Craig Newmark of Craigslist, Jimmy Wales of Wikipedia and many more. This year is already shaping up with some fantastic programming, including the Jim Bankoff of Vox, Ken Burns and Henry Louis Gates, Anthony Bourdain, Slack founder Stewart Butterfield, US CTO Megan Smith, Twitter founder Biz Stone, Gary Vaynerchuk, actress Kerry Washington and more. Additional announcements are sure to come.
Students who have participated in the project have gone on to key roles in digital media companies including The New York Times, HomeAway, Spedfast, Mosak Advertising and Insights and more. Some even work for SXSW. Check out the testimonials at www.cindyroyal.net/sxapp/testimonials. We want to use this event to reinforce learning and provide significant opportunities. Participation in the project can advance one's knowledge, provide access to professionals and inspire a platform from which many future conversations can emerge.