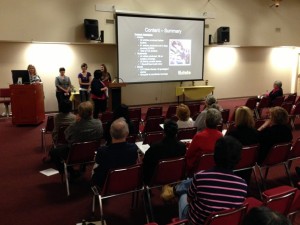 After the event, we are exhausted and invigorated. It's hard to imagine being both at the same time, but it happens. While students are tired from the constant coverage and exposure to new ideas, they emerge invigorated to explore new topics and directions. For the project, there is a little recovery time. The final two requirements for students after SXSW is to contribute to a presentation that covers our participation and to each develop their own panel proposals for SXSW 2014.
The presentation was given to faculty on April 26, and can be found below. View to see how we discussed design, coverage, our Ushahidi project and analytics.
Students submitted their own panel proposals, as the final project. We discussed via Google Hangout, provided suggestions for improvement. We've had graduates of the project submit their own proposals and been speakers at SXSW in subsequent semesters, but this is the first time that doing so was a requirement of the class. I hope to see several of them on the SXSW 2014 schedule. When the panel picker opens in June, I hope you will vote and comment!
I am very pleased with the progression of this project over the years, and I am particularly satisfied with the new incarnation of it as its own class. We tackled and accomplished a lot this year.
Please review the items at sxtxstate.com and sxtxstories.com. Our files for the Ushahidi project are posted on github.
I'm always interested in comments. Please email me at croyal [at] txstate.edu, if you have anything to contribute.