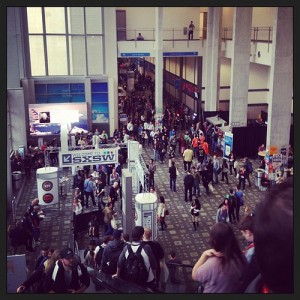 There's a lot of preparation that goes into covering SXSW. We don't just show up and attend panels. Since the event is so large, we spend a lot of time doing previews in advance. This allows students to begin coverage, to start thinking about their schedule and to meet participants. It gets them into the habit of interviewing people, and it takes away some of the anxiety about attending. Granted, there is always anxiety about SXSW, and one can never be completely prepared, but doing this early legwork has been a great advantage. The previews are done via email, phone or in some cases recorded via Skype or Google Hangout. I encourage students to be creative in their preview coverage, finding unique angles.
As early as the previous semester, we begin this activity, often having all the students in my Online Media Design class looking at Panel Picker or selected panels and doing write ups. When the SXSW team was selected, they were assigned to do three previews over the holiday break, so they would be ready once the semester began. SXSW comes up quickly in the spring, so there is little time to get things rolling if you want until the first day of class in January.
Students are organized into beats, based on the SXSW categories. But they can communicate and share, if there are specific panels they want to cover outside their beats. There are hundreds of panels and students have varying interests, so there is little fighting amongst them.
Students are also strongly encouraged to map out a schedule for each day's coverage, with Plan B, C and D for each time slot, given the distance between venues and the potential of packed rooms. For their coverage, they are to do write-ups of the panels they attend each day, as well as interview people about their ideas, their attendance or anything else that seems interesting.
We have various meetups and events of our own during SXSW. We had a Thurs. night meetup at the convention center with the team and an opening dinner at Manual's. We attended the Awesomest Journalism Party, and we had our own Taco Party at Texas Tribune. We also attended all kinds of other SXSW related parties, so every moment was filled. Check out our photos on Flickr.
It's a long and exhausting five days, but it is a very rewarding experience. You can see student observations on the site with the last few posts, but here are a few:
The key sessions that I attended typically reflected my interests, but I also took on some panels that I knew nothing about. However, the main themes that I observed during the festival focused on diversity in tech and innovation (or lack thereof), and social media's effect on relationships and company success. – Kiana Fitzgerald
As a whole, I sincerely believe SXTXState's coverage of SXSWi rivals that of any "professional" coverage of the event. I continued to be amazed by my cohorts' instinct for newsworthy content and their drive to secure interviews with the conference's biggest names. From David Karp, W. Kamau Bell, Michele Norris, Gary Vaynerchuk, and more, our team successfully interviewed the same high-profile leaders in tech and communications as major news outlets. I attribute this success to the SXTXState model, which provides a platform for students to launch from. SXTXState allows individual participants to cultivate their own interests while rewarding the boldness and gumption of our ambitious reporters. – Sara Peralta
During her talk, [Rachel] Maddow answered audience questions tweeted with the hashtag #AskMaddow. One tweet, submitted by SXTXState's Sara Peralta, asked her advice for aspiring journalists. Maddow went through a list of specific tips from producing content to taking advantage of the democratization of digital media to get your name out there. Then she summed it all up in three simple words: "Just be awesome." More than any other tidbit of advice from the gurus in the featured sessions and panels, the most inspiring speakers I saw echoed this message. Be great at what you do, and you can't go wrong. – Megan Kilgore
This year was my first attending South by Southwest Interactive. A lot of people have asked me if it was a fun experience. I hesitate, not because it isn't fun, but because it's something more. My team worked really hard to produce content around the conference and interview panelists. We attended a few parties, and yeah, they were fun, but for me the SXSW experience wasn't fun, it was rewarding. I enjoyed it in the same way you enjoy a great workout – you're sweating during it and hate it a little and think you might die, but you don't, and afterward you're so glad you did it. – Emily Lyons
Amongst Brittany Black's Top Ten Takeaways (read the rest):
Creativity is key, but you don't force it.
Ideas are everywhere.
Having a free beer in the middle of the day is totally necessary, and ok!
Talking to people isn't as scary as it seems
I always try to sum up some of the key themes of the event. For me, they were Serendipity (a version of luck, being in the right place at the right time, meeting the right people and how you can take control of serendipity), responsive design and the maker movement. But the biggest benefit is always in the people we see and get to meet.  I know it is a lot of work to cover an event like SXSW, but I am convinced that there is great benefit in handling it this way, as opposed to passively attending. Many opportunities, meetings and connections (ala serendipity) has been made because of the students' efforts. I look forward to attending with another student group, capturing their impressions, seeing the content and coverage they create and the opportunities that spring from it. I hope that other schools might recognize the uniqueness of this event and find ways to include students in attending.