We're making excellent progress on our SXSW project. The design of the site sxtxstate.com is really coming along, and we have implemented some new responsive features – a completely different, more useful layout for mobile devices. I like the new logo and theme that Emily Lyons worked on for us. This new design is definitely reflective of the professional approach of the project. You can still find archives of the articles from the past years throughout the site, so take some time to peruse.
Students are posting previews and we have some weekly features. The Top 5s will give you our picks for SX panels under certain topics. And Weekly News will keep you up to date on all things tech, particularly if it relates to SXSW. Kiana Fitzgerald has been heading up this activity.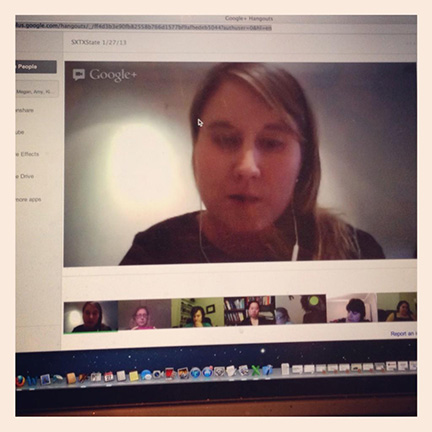 During our Sunday Hangout, we were joined by Amy Schmitz Weiss. She is on the faculty at San Diego State and has worked with Ushahidi on a similar project, Aztecast.com. Amy was able to give us some good advice and answer questions that we had about our own deployment. We really appreciate her taking the time to meet with us.
Also during the Hangout, Brittany Black presented the social media strategy for the project. In addition to the usual suspects, Twitter, Facebook and LinkedIn, we'll be using Storify, Pinterest and Instagram in interesting ways throughout the semester. Stay tuned. You can find the social links on the site.
We also had a Thursday in-person meetup this week in San Marcos. This is in lieu of a Sunday Hangout, so we can all watch the Super Bowl! We needed to get together in person anyway to do some strategizing for our Ushahidi project and many other items, so this was a good time to schedule it.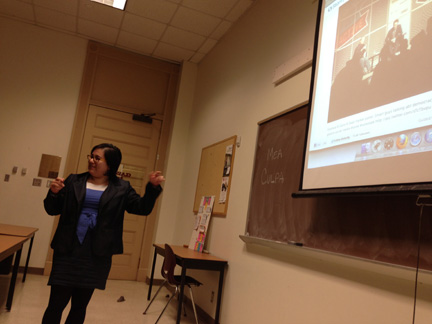 First, we had a presentation from Sara Peralta on the use of mobile tools for reporting. She had some good recommendations for using things like Vine, Evernote, Hootsuite, Dropbox, Dragon Dictation, Google Drive, GroupMe, Foursquare, Ustream and Soundnote. We were kindly provided with these cool iPad Minis from our department, and we'll be using as much as possible for our coverage.
Emily Lyons updated us on the design strategy for SXTXState.com. She is moving ahead with the responsive tweaks and had a great idea for finalizing the logo. We are now converting the logo to different sizes for our social sites.
Jon Zmikly, who was teaching in another room, dropped in to join us during his break. Jon has been associated with the SXTXState project since its inception, as a student for a few years, and then as an instructor. Jon was able to provide some insight as to what the students might expect and how they can best prepare.
Megan Kilgore presented on some Ushahidi deployments. She outlined Voice of Kibera, Open IR Jakarta Banjir, the Cardiff Design Trail and Design Week NYC. We were able to take inspiration from all of them, but the most applicable were Cardiff and NYC, both dealing with the ways to use the platform during an event.
Then we got down to some brainstorming about how we wanted to use Ushahidi. We had a broad discussion about scope, users and what we could accomplish before SXSW. We settled on some ideas around our own personal usage of the platform to map the story of our own SXSW experience. After this beta, we can open it up to others in the Texas State community to join in. We discussed site name and domain, and I think we have settled on something that will be similar to our main domain. More to come. We'll be generating logos and materials for this as well.
We also discussed things like categories, location mapping and form fields we'd like to capture. We had a good discussion, prompted by Sara Peralta, on how we might be able to capture affect or feeling throughout the event. She is leading up this area, so there will be more to come on that.
We're on schedule for our Hackathon at Capital Factory on Feb. 23. We'll be joined by Blair Mundy, a former student of mine who now does Web development, and Brandon Rosage, who works for Ushahidi and conveniently lives in Austin. We'll also invite members of the Hacks/Hackers and Online News Association communities to drop in to see what we are doing. More to come on that.